Don't Trade One House Cleaning Danger for Another
The very house cleaning chemicals we use to protect our children may actually be doing more harm than good.
As I look back at nearly a quarter-century in the house cleaning industry, I am increasingly aware of the effects that exposure to cleaning chemicals has had on me.  As my wife and I watch our grandchildren crawling around hard-surface floors and putting things in their mouth, I worry about the chemicals they are being needlessly exposed to.   This has led us to embrace chemical free house cleaning.
Chemical Residues Are Left Behind by Almost All Traditional or Green Cleaning Products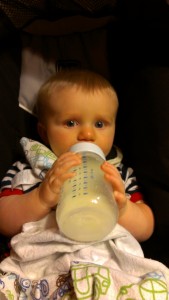 Can be absorbed through the skin
Can become airborne and inhaled
Can provide a food source for bacterial growth
Some of the components of cleaning products, even certified green cleaning products include neuro-toxins and carcinogenic compounds to say nothing of asthma and allergy triggers.
Children, Pets and Elderly are Most Vulnerable to Cleaning Products
We use disinfectants and disinfectant cleaners to protect our children and ourselves from harmful germs.  But disinfectants are rarely-used correctly, making them ineffective at best.  So we are left with both germs and a toxic residue.  Remember, disinfectants are biocides, which is roughly translated as 'kills life'.
Our patented steam cleaning system kills germs using only super-heated water.  In fact, this steam cleaner is the only one awarded an EPA registration as a disinfecting device.
Don't Drive a Thumbtack into the Wall with a Sledge Hammer
Our system using high-quality microfibers and engineered water can clean most surfaces in maintenance cleaning as well or better than traditional chemicals without leaving any residue.  Leave the strong cleaning agents for where they are really needed, like in hospitals.
The Smells we Associate with Clean are actually Pollutants
A true green clean has no smell!
Many of the chemicals that we associate with clean, like lemon, perfume or chlorine gas, are irritants at best and toxic at worst.
Who needs Chemical Free House Cleaning?
People with children – or grandchildren
People with pets
Asthma sufferers
Allergy sufferers
People with chemical sensitivities
People undergoing chemo- or other immune-compromising treatments
Minimal carbon footprint
Cleaning solutions made locally without chemicals
No trucking of gallons of liquids or tons of powder all over the map
Simple and safe disposal of dirty water without the toxins or damaging chemical content of traditional chemical-based cleaning
Beyond Green Cleaning
Chemical Free House Cleaning System offers:
Minimal carbon footprint
Cleaning solutions made locally without chemicals
No trucking of gallons of liquids or tons of powder all over the map
Simple and safe disposal of dirty water without the toxins or damaging chemical content of traditional chemical-based cleaning