Upholstery Cleaning To Spruce Up Your House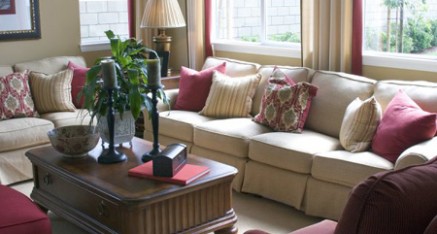 The Town & Country Upholstery Cleaning Process
Our 9-Step upholstery cleaning process includes:
Inspection and testing of each piece to determine appropriate cleaning procedure;
Thorough dry vacuuming to remove dry particulate soil, dust mite allergens, etc.;
Application of the appropriate cleaning agent;
Hand brushing to work in the cleaning agent and to loosen soil;
Extraction of the cleaning solution and loosened soil using a special controlled-moisture extraction tool;
Check for spot and treat as appropriate;
Groom if necessary (e.g. for velvets);
Apply fabric protector if applicable (option added fee);
Speed dry cushions.
NOTE: The finer the fabric, the less aggressive the technician can be in the cleaning. For best results it is important for fine fabrics to be cleaned regularly before there is a major build-up of soil.
Certain fabrics and conditions will require somewhat different procedures.
Frequently Asked Questions About Upholstery Cleaning
Q: Can't everyone who cleans carpet clean my upholstery?

A: No. Upholstery fabrics are finer, more varied and more delicate than carpet. That is why before we clean upholstery for the first time, we test for fabric type, color fastness and also check for other complications or pre-existing conditions. Only then are we able to determine the proper cleaning methods and pricing for your piece.
Have a question about upholstery cleaning that we did not answer here… or just want help getting started?  Call us at (919) 967-7592 today!