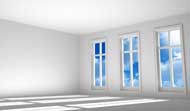 Post-Construction Cleaning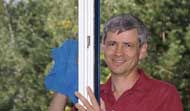 Window Cleaning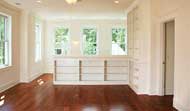 Move-In or -Out Cleaning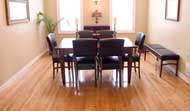 Wood Floor Cleaning & Maintenance
Post-Construction Cleaning
For over 25 years, Town & Country Services has been getting some of the finest new homes in Chapel Hill and Durham ready for their discerning builders and buyers. Our expertise can help you achieve the finished, NEW look that both builders and clients want.
If dust is a concern, ask about our unique low-dust protocols.
NOTE: To achieve that finished look you want, it is important that power and water be on and the house free of all trades and other traffic during our clean–and after– until you inspect it.
Window Cleaning
We clean over 10,000 windows per year. Our teams can clean most windows inside and out up through the second-floor level. While windows are being done is also a great time to schedule some specialty high dusting, including the cleaning of high fans, chandeliers, shelves, and light fixtures.
Note: Your window-cleaning is GUARANTEED smear-free when you hire both sides (in and out) at once.  Some outside windows above the second floor can be done (tilt-ins or removable panes).
Guarantee: Call us by end of the next business day and we will rush back to redress any final smears.
Move-In or -Out Cleaning
We can put it all together: cleaning, carpet- and upholstery-cleaning, and windows to make your house show at its best, or to make sure you're moving into a clean house for your family. Call us to customize a cleaning plan to fit your unique needs and deadlines. Call early for the best scheduling opportunities for your project and for optimal sequence advice that even realty and other professionals ask us about.
Wood Floor Cleaning & Maintenance
Wood floors are beautiful and with modern sealing techniques can be durable for years. However, they do need careful maintenance to retain their beauty long term. Oiled and varnished floors require special care. Please call us for more information about your particular hardwood floor needs.
For today's modern, polyurethane-sealed floors, you can take steps to prevent damage from 3 primary enemies: grit, water, and sun damage from U-V rays.
Steps to prevent damage from…
Grit:
Matting at entrances
Frequent vacuuming and/or dust-mopping of traffic areas
Removing your shoes at the entrances, especially work and muddy shoes
Note: Avoid use of extreme high-heeled shoes, e.g. stiletto heels
Water:
Matting at entrances (we're seeing a pattern here)
Wiping up spills quickly
Using minimal water for cleaning, ensuring a quick drying of the floor.
Using a neutral cleaner, specifically designed for polyurethane-sealed floors which leaves NO residue. Avoid, for example, oil- or silicon-based cleaners
Ensure that your floor's finish remains intact over time, especially in high-traffic areas
Note: Wood darkens with water-floors often show blackening damage in high-traffic areas and under house plants.
Water-caused damage sometimes shows along the edges of pre-finished boards from excessive mopping. Monitor wear and plan to re-coat those areas before wear removes or dulls your finish.
Sunlight:
Ultra-violet sun shields may be helpful for exposed windows and floors
Blinds and awnings may also be helpful to prevent light bleaching and discolored appearances.
Town & Country Services can help you with proper maintenance techniques, including durable, no-sanding re-coats for poly-finished hardwoods.