Town & Country Cleaning Services Partners with Cleaning for a Reason
Around 2009, Cleaning for a Reason, an international nonprofit foundation offered an opportunity for Town & Country Cleaning Services to partner with them.  Cleaning for a Reason with support (monetary donations as well as free services from companies like ours) makes it possible to get the word out nationally and locally to women who are cancer patients that this program provides (4) free monthly cleans for women. A simple one-page form allows their physician to identify them as cancer patients to the Foundation which then matches them to local cleaning companies offering these free cleans.
Giving Back To Women Struggling With Cancer
The owners of Town & Country, Bruce and Sarah, were drawn to the idea of giving back to their community and with several major medical teaching centers nearby, this program seemed like a natural fit.  There was a great response to Cleaning for a Reason generally and the non-profit has garnered attention all across the nation as word spread and manufacturers became sponsors and made both financial and material donations.  We encourage all professional cleaning companies to consider signing on to help by volunteering their services so more women can receive this wonderful service.
Creating a Win-Win for All
A serendipity from this experience for us was that in recognizing a need for minimal chemical use in the homes of cancer patients, we were led to develop a water-only cleaning method that was safer but also left homes as sanitary as before if not more so than when using traditional cleaning methods.  This was possible through an association with Modern Cleaning, a Charleston, SC-based company whose owners were working with us on the development of a nationally-recognized house cleaning certification.  They tuned us in to the power of a steam generator which cleaned and quickly sanitized and even disinfected hard surfaces in the home without harm to surfaces and fixtures.  They also encouraged us to adopt the superior cleaning of 'hospital-grade' microfiber cloths and in turn, we helped them discover the exceptional cleaning provided by de-ionized water when used in conjunction with those microfibers.  We also adopted the practice of using color-coded microfibers: red or orange is used for bathrooms, other colors for other parts of the house, to prevent cross-contamination.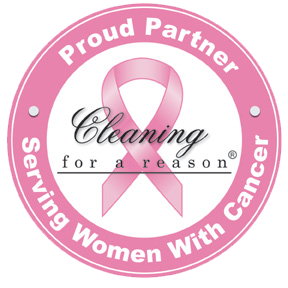 The Joy of Serving via Free House Cleaning Services
But the patients are our best reward.  They have enthusiastically greeted our teams with deep gratitude and appreciation.  Sometimes, their course is run before we can complete the 4 cleans and that is sad for all, for we get pretty close to these fragile ladies during our brief time with them.  Many times, they join the growing numbers of survivors and may even come back later, hiring us on as their regular cleaners.  This is such a win-win program.  Many patients schedule their cleans on treatment days and they tell us it brightens their long, hard day to come home to a clean house.  It brings us joy to help in this simple way – giving back, supporting in a small way those in a battle for their very lives, bringing a smile on those days when a smile is hard-won.