Transform Your House to a Healthy Home
"T & C has cleaned my home for almost 20 yrs. they are professional and conscientious . I have referred many friends to them. They respond, reschedule as necessary. They cover for holidays. They respond appropriately as necessary. All and all,they are the best service I've ever used. Steadfast service. Great employees!!"–Judy L., Chapel Hill NC

"These folks do a great job at a great price. They are thorough, trustworthy and efficient. I highly recommend!"–Martha M., Hillsborough NC

"Town and Country cleaners are reliable, responsible and do quality work. We've employed them for more than 8 years and know that they will care for our home as we would."–Mary H., Pittsboro NC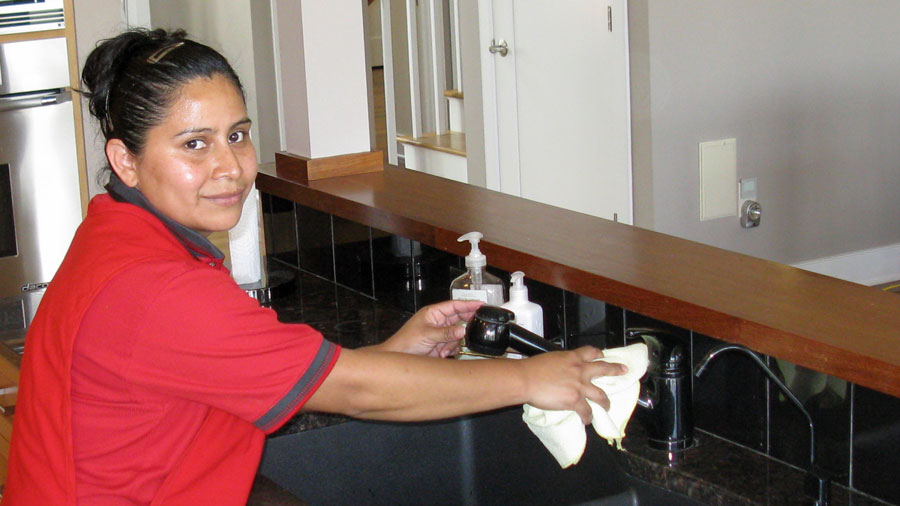 Serving Chapel Hill, Carrboro, Pittsboro, Hillsborough, and Durham
★ Quality and Professional Performance – EVERY clean!
★ Now offering chemical-free-cleaning: a healthy clean and Green too!
★ Customized to meet your needs!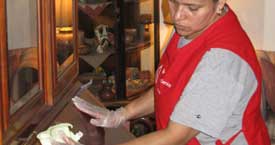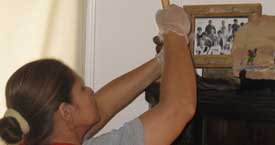 At Town & Country: Excellence supports education – we use high-quality materials and equipment, stay abreast of cleaning technology, industry standards and concerns AND we help protect your family's health and indoor air quality whether at home or at the office.
Benefit from our selection process, low turnover rate and high degree of loyalty from employees. Our new employees are subject to background checks, job history review, and personal references are checked before approved for placement in your home. All are or will be subject to certain drug tests (in the event of on-the-job accidents and in the future, random testing).
Enjoy the confidence of trained professional cleaners who truly care about their responsibility to your home and who also care about you and your family.
Town & Country GUARANTEES OUR WORK. If you are not satisfied with our work or have concerns, we ask that you give us the opportunity to make it right. Please call us within one full day and we WILL RETURN within 2 business days to redress the missed area.
What IS typically included in every house cleaning visit
Bathrooms: Entire tub/shower enclosures are cleaned. As we use only milder, controlled-fume cleaners, we recommend you apply your favorite bleach treatment following our thorough clean and rinse if you have found bleach necessary in the past. If mold begins despite this action, please call our office. Cleaning includes the shower doors and their tracks. Toilets (and bidets) are cleaned inside and out. Sinks, counters, mirrors are cleaned to a streak-free gleam and chrome is shined. Bathroom floors and baseboards are thoroughly cleaned, including accessible corners.
Kitchens: All exterior surfaces are cleaned (outsides of appliances) from about a five-foot height. Cabinet knobs and handle areas are wiped and base cabinet doors are thoroughly wiped down as needed. Stove-tops are degreased; smooth tops and chrome areas are treated appropriately. Stainless steel is appropriately cleaned and streaks removed. The inside of the microwave oven is wiped out. The counter tops and small appliances on top are cleaned. Chrome is polished. Entire accessible floor is vacuumed, then damp-mopped.
Dusting & Vacuuming: For insurance (liability and workers comp) reasons, we do not employ step stools or ladders after the first (or annual) clean. We use an extendable duster to remove cobwebs and dust from accessible, high areas such as wall-ceiling joins, corners, baseboards, fan blades, etc. Furniture is dusted to the floor. Glass surfaces (coffee and end tables, mirrors, TV screens, etc.) are spray-and-wipe cleaned. Upholstered furniture in high use areas are vacuumed by rotation. Woodwork (chair rails, window sills, door- & window-ledges) will be dusted. Small items (except on high or closed shelves) will be picked up and dusted under. Carpeted floors are vacuumed; hard surfaced floors are vacuumed and then (usually) are damp mopped. Up to one pair of slider doors may be washed inside and outside (weather permitting). Wastebaskets are emptied and replaced where found, without liners except in the kitchen. Our crews do not deal with human or animal waste, so litter boxes and diaper pails are not included. To signal for bed changes, just leave your selected linen out in the selected room (one is included each visit) and we will strip the bed, remake it and place the soiled linens in your designated location.
Note: We can normally tailor this list to suit your needs and requests.

Town & Country Cleaning Services is a proud and active member of ARCSI (Association of Residential Cleaning Services, International) – the premier organization supporting the residential cleaning industry!
What is NOT typically included in every house cleaning visit… However can be upon request via our office
The list below includes chores not normally included in our typical house cleaning service but which may be performed by your regular team by requesting via our office. Some of these items may be built into your first (or annual) house cleaning. Others may be needed more (or less) frequently.
Additional sliding doors (one set is usually included)
Clean inside oven or refrigerator
Clean patio furniture (large areas or arrangements may require special tools and/or team)• Cleaning inside curio cabinets
Damp mop wood floors which are normally dusted (may not apply to all houses)
Edge carpets in one or more rooms using a crevice tool
Extra dusting following renovation, painting, or major repair work (may require a specialty team)
Use stepstool to hand-wipe ceiling fan blades or clean higher shelves
Use stepstool to hand-wipe glass globes in chandeliers
Vacuum or remove/change dust ruffles on beds, drapes or curtains
Vacuum out floor registers to 1st bend, or to extent reachable by normal vacuum hose
Vacuum exterior of wall and ceiling vents
Wash and dry one load of flat laundry (towels or sheets, etc.)
Wash exposed woodwork in one or more rooms/area
Wash French doors
Wash out wastebaskets
Wash tracks of sliding glass doors
Wash underside of glass-top tables (must be accessible in situ)
Optional house cleaning services requiring specially-trained teams
The following is a list of those house cleaning services which are also available using specially-trained teams from Town & Country Cleaning (to meet our high standards and safety requirements) these are not "maid" tasks!
Carpet cleaning (IICRC-certified technicians) ask about our carpet protectant and spot treatment programs.
Wood floor preservation with high-quality polyurethane added coats. The American Hardwood Association recommends re-coating sealed floors at least every 3 to 7 years.
Ladder work: windows (inside and out); can be paired with chandelier-cleaning, high dusting.
Post-construction or renovation cleaning special dust-control protocols available.
Tile and grout cleaning and restoration-using special tools, some from our truck-mount.
Upholstery cleaning (IICRC-certified technicians) like your dry-clean only clothes, fine furniture fabric demands knowledgeable, fine care to protect it; we meet exacting standards.
Water loss, inspection, consultation, extraction and drying or referrals (for large jobs).

 Town & Country Cleaning Services partners with Cleaning for a Reason® to offer free professional house cleanings to help women undergoing treatment for cancer!